Amy Rolland here. This is the happiest of Fridays (for me, at least) because it's my birthday!! Hooray!!!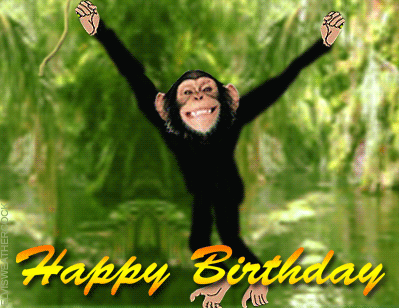 Bahahaha. So I had to choose this image because, for one, I couldn't stop giggling at the monkey butt (I'm extremely mature for my old age), and two, my kids picked it out. They've been watching Ice Age: Continental Drift over and over (and over...) again, and they've picked up on a darling little phrase: "Kick his monkey BUTT!" Even my two-year-old is now telling people in the grocery store in his angelic little voice: "kick his monkey butt; kick his monkey butt." It's special. My five-year-old tries to say it without getting into trouble by spewing out: "Butt? Butt, but it's in a kid's movie. Butt? Butt? Why is that a potty word? Potty, potty, potty. Butt, butt, butt. Butts go in the the potty." For for my birthday, all I want is for my children to leave their Tourette syndrome at home.
So for today's post, the Valentine crew answered one of the following:
-What they wish for on their next birthday
-What their main character might wish for on their next birthday
-What they will do on their BOOK birthday

. Fun stuff!

On my book bday I'm getting the same tattoo Meadow has in The Murder Complex!
-Lindsay Cummings,
THE MURDER COMPLEX
My MC would wish for a home. Being a refugee makes life rather bare, so all Meira wants is a place where she can be safe -- and not just any place, but Winter.
- Sara Raasch, SNOW LIKE ASHES
Charley's wish for a perfect birthday? Easy. Hanging out with Thad, in Atlanta, watching a movie and just chilling out--because it would mean they both survived NIL, and found each other in this world.
- Lynne Matson, NIL
On my next birthday, I'm wishing for a case of beer and The Hollow Crown DVD set (for Hiddles reasons.)
- Bethany Hagen, LANDRY PARK
Darlena hopes her seventeenth birthday will be way better than being sixteen; declaring to Red Magic and learning she had the power to blow up the world sort of made it a rough year for her. She's just wishing for a normal celebration at home with her witchy parents...cake, a magical fire, and some flashy spells; you know, the usual. She also wouldn't say no to a forbidden kiss from Justin, the ex she can't stop thinking about, but that's not a gift she's prepared to ask for.
- Jen McConnel, DAUGHTER OF CHAOS
For Alexa's birthday, she would celebrate having made it another year without her secret being discovered, and she'd love to get a new dagger or some more arrows to add to her weapons collection.
- Sara B. Larson, DEFY
My MC would wish for VENGEANCE.
-
Kristen Lippert-Martin
,
TABULA RASA
Cricket would say, "World peace *dies laughing* A wheelchair free night with my hot boyfriend, obviously."
-Bethany Crandell, SUMMER ON THE SHORT BUS
The sequel to PRISONER OF NIGHT AND FOG starts on Gretchen's birthday. I can't say more without giving away too much, but she does NOT get what she wants.
-Anne Blankman,
PRISONER OF NIGHT AND FOG
For her birthday, Lainey wants to go see the new Caleb Waters movie,
Flyboys
, with her friend Bianca. Caleb Waters is a soccer champion turned movie star, and both Lainey and Bee have idolized him forever.
- Paula Stokes, THE ART OF LAINEY
For her birthday, Becca would want the new Cynthia Swann bag (to paraphrase Cher from Clueless: "She like...a totally important designer.") or some other designer fashion merch. That's what she usually buys with her Break-Up Artist income.
- Philip Siegel,
THE BREAK-UP ARTIST
For her birthday, Amber would be flabbergasted to have her best friend, Devon, and his brother, Will, take her on a road trip to Nashville. It'd get even better when she found out they'd figured out a way to get her on to the empty stage of the Grand Ole Opry so she could see what it would be like to sing there.
- Jaye Robin Brown, NO PLACE TO FALL
For my MC's next birthday, she would love to have found a way off of Earth--preferably to a planet that still has air and water.
-Kristi Helvig,
BURN OUT
After Chase is gone, Alex only wishes for no more birthdays.
- A. Lynden Rolland,
OF BREAKABLE THINGS